The Rocket At Subway Condos – Affordable Urban Living at Wilson Subway Station | Starting from the low $200 | 1bedroom + Den at $269,990 & 2bedroom at $299,990
The Rocket At Subway is a new mixed-use condominium development currently in pre-construction at 30 Tippett Road in Toronto, Ontario by Metropia Urban Landscapes.  It is designed by SMV Architects and consists of two proposed buildings of 12 and 8 storeys in height with a total of 396 dwelling units and 213 parking spaces.
The Rocket At Subway Condos is located just south of Wilson Avenue by Tippett Road.  This future proposed development will be located right beside the existing access to the TTC Wilson Station and is to the south and west of the Station Condos located at 545 Wilson Avenue. The original proposal was for two buildings of 13 and 12 storeys in height with 290 units but has been revised to two buildings of 12 storeys Building A (41.19 metres in height) and 8 storeys Building B (26.08 metres in height) with a total of 396 proposed units.  Of these 396 units, 100 will be affordable units.
The twelve storey building will have 242 dwelling units with non-residential uses on the ground floor and the eight storey building will have 154 dwelling units.  Building A total gross floor area is 18,544 square metres and will include nine two-storey live-work units. There will also be 228 square metres of retail use space on the ground level at the south end of the building and 424 square metres for a daycare will be located along the east side of the building.  Of the total 242 residential units, 100 will be one-bedroom units, 27 will be one-bedroom plus den units and 115 will be two-bedroom units.  There will be both indoor and outdoor amenity space proposed in this building at ground level and also on the 7th floor.  Building B total gross floor area is 10,661 square metres and of the total 154 residential units, 16 will be two-storey townhomes (2 bedroom + den units) that will be located on the first and second floors of the building while the remaining 138 residential units (54 will be one-bedroom units, 20 will be one-bedroom plus den units and 52 will be two-bedroom units) will be located from floors three to eight.  There will be both indoor and outdoor amenity space proposed in this building at the ground level.
A total of 213 vehicular parking spaces are proposed in one level of underground parking garage for both buildings of which 169 will be for residents, 39 will be for visitor, 3 will be for daycare and 2 for car share spaces.  There will also be 169 bicycle lockers proposed for Building A and 79 bicycle lockers proposed for Building B and a total of 312 bicycle parking spaces proposed for both buildings.  The entrance to the Wilson TTC Subway Station is located just to the west of the development site adjacent to the William R. Allen Road.  "The developer has proposed a two-storey arcade, 12.2 metres wide, through the ground floor of the proposed Building A which would serve to convey pedestrians and cycling traffic from the western end of the proposed public road to the subway station entrance."
For Investors and end-users, this is the most affordable condo project that is connected to a major Subway line. If you want affordable condominium living that gives you instant access to Toronto's most convenient urban destinations, then this is the project for you and The Rocket Condominiums should be your next stop. With the subway at your front door, investing & living at The Rocket is like having all of your favourite Toronto locations, restaurants, shops, stores and night life right outside your door.
The Rocket is the perfect hub for those who choose to get around the city by car. Highway 401 and The Allen Road are both right at your doorstep, and highways 400, 427, 404, and 407 are all rapidly accessible for The Rocket. Get around the GTA on your own terms from this remarkable nexus of urban transporation.
York University, Ryerson & University of Toronto
The Rocket also puts you in convenient proximity to all of Toronto's premier universities. Already easily accessible by bus or car. York University will be even faster to get to when the new York Subway extension opens in 2018. The University of Toronto and Ryerson are both also just 30 minutes away by subway, so you can always get to class on time when you live at The Rocket. Investors will have a larger tenant pool with this project as this project appeals to young professionals working or studying downtown or anywhere in Toronto, new couples and students amongst many others.
One stop north of The Rocket, Downsview Park, features 294 sprawling acres of parkland that includes a mix of forest, ponds, trails, sports and recreation facilities, community gardens and more. One of the major highlights is "The Hanger", a 485,000 sq. ft. sports facility that offers indoor and outdoor fields and competitive soccer leagues for adults and children.
More Reasons to INVEST at the Rocket Condos;
Convenient uptown Toronto location literally steps to Wilson subway station – 20 minute TTC ride to the downtown core
A full-fledged transit hub, the residence will directly connect to the future $2.6 billion Vaughan TTC extension; linking to York University and the Vaughan City Centre
Highway 401 is moments away
Proximity to Yorkdale mall, which is one subway stop south. The mall features over 250 stores and restaurants from Holt Renfrew, Hudson's Bay, Apple Store and a Cineplex Cinemas
Competitive price points, with open-concept two bedroom suites starting from $299,990
The 294 acre Downsview Park is a stone's throw away and includes woodlands, hiking trails, sports fields and community gardens
Just one subway stop south of The Rocket, Yorkdale Shopping Centre is Canada's premier destination for one stop luxury shopping, dini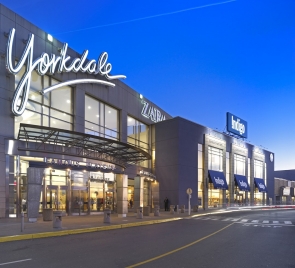 ng and entertainment. Boasting over 250 shops and restaurants, for a grand total of 1.7million sq.ft. of retail space, you can literally find everything you've ever wanted here. From a new laptop at The Apple Store to a new luxury sports a car at Tesla Motors, to the latest fashions from all your favorite international boutiques, and everything in between.
Just to name a few:
Nordstrom
Versace
Zara
Michael Kors
Holt Renfrew
Kate Spade
and so many others….
World Class Quality From One Of Canada's Best Builders
Metropia creates buildings and communities that transform neighborhoods and add vitality to Canada's urban landscape. With numerous landmark developments in both Calgary and The Great Toronto Area, Metropia is constantly pushing the boundaries of urban design and innovation to offer a wide range of housing options with an emphasis on affordability and an abiding responsibility to environment.
Metropia is a product of Howard Sokolowski's vision to create one of Canada's leading real estate development companies. Throughout his many years in this industry, Howard has a proven ability to see beyond current trends to plan and build successful and award winning communities. Howard's expertise is complimented by fellow member of the executive team David Speigel, the industry's foremost authority on low rise and high rise project execution. Over the past 30 years Howard and David have led the development of over 25,000 high quality homes, a legacy they are excited to improve upon with every new project they build.